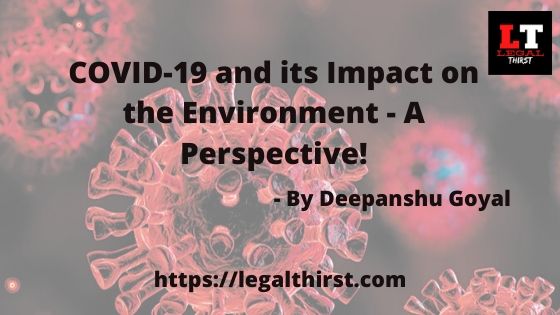 COVID-19 and its Impact on the Environment – A Perspective! – Deepanshu Goyal
With the public sealed on the inside of their very own door frames throughout the continuous 3rd Lockdown in the country; and has crossed 50 days period, with factories been shut since the beginning; (but many are now open or about to open soon); with little to no cars and their honking, no more get-togethers; all that's more due to the disruption caused by the modern disaster; people are familiar to, by the name of COVID-19 or Coronavirus; unrolled to the world by the now renowned Huanan Sea Food Market; Wuhan of mainland People's republic of china; which is unclearly supposed to be originated from Bats and Pangolins.
It is speculated that the "Wuhan Virus" can circulate to and from different mammalian species. A few rumors also speak of the virus being a laboratory product. A baseless allegation? At least as of now! God knows!
These so-called Wet Markets were also involved in the previous virus outbreak from China itself, the said Cousin of COVID-19, SARS Virus during 2002-04.
How-so-ever, Rumours or Theories, regardless of both, we are still unclear and unsure about the origin story of Coronavirus; even after 6 long months of the outbreak. I am stressing for an origin story, as it might be helpful to us in the development of a 'Working Vaccine' for this disaster.
So many hypotheses, many proved true, many trashed to the bin, it has been next to impossible for the authorities; to properly control the spread of the virus, other than Social Distancing, Lockdowns, and Curfews. Oh Yes, beating people to handicapped condition is an option too!
The tally of Corona infected Humans has smashed the 4 Million mark around the world; and the death count is yet to cross 300 Thousand; at least as of now while this article is being typed by me. We have a piece of good and bad news too. The good news is that there has been a recovery of more than 1.4 million people… IMMUNITY! And the bad news is that they are not immune to reinfection. The pandemic can easily transmit when a non-infected being comes in contact with the mucus or droplets from the sneeze or cough of an infected person; with that virus reaching the eyes or nose or lips or mouth somehow. It may also transfer via fomites and unsurely fecal-oral route as well. So better control your independent cravings and maintain proper self-Quarantine.
THE SILVER LINING
Even though the virus is stretching his fathom wide over every second, hugging more than 270 thousand people to death yet. It's Heart-breaking! Seeing so many people getting infected, suffering, gasping for breath, dying, or asking for one. One more reason why Euthanasia should properly be legal now!
Even in such a corrosive situation, there is a silver lining; as with this Quarantine and all, Mother Nature has got some spare time to heal herself of the wounds given by the Human-habit of overexploitation of each resource; that it was a dream to many to get to breathe some pure air.
The only news of Tsunami or Flood is of Corona, at least I haven't heard of one. Yes, we are close to a Global Economic recession; but we are closer to the recession in Global Emissions even in the spring season; when the pollution levels used to be on peak worldwide! The climate is no longer under crisis; which proves we need not look for a new planet to live, at least for now.
With Tourism on zero marks, with no motorboats rumbling, with no industrial discharge to rivers… Ganga River no longer needs a multi-billion dollar Namami-Gange Project; there's no more Toxic Lather over the Yamuna; the water in the European canals is back to transparency; the Krishna river is getting clearer due to sedimentation of dirt and particulates, maybe. With no more cruises, sails, ports, transportation, deep-sea mining going on; oceans are looking clearer, that was dying due to microplastic excess. It is also possible that we may find any compound able to treat COVID-19 from oceans; due to the different chemistry and physics going on down there.
In the country with 22 of the 30 most polluted cities in the world, COVID-19 has done a lot for us, be it indirectly; but it has reduced greenhouse gases, PM2.5, and many hazardous substances out of the atmosphere; that their levels are lowest in decades. India's capital, Delhi, where the Pollution levels used to cross 900 as well; saw more than 70 percent reduction to double digits. But is again heading to unhealthy levels as Factories are being opened again. Nothing is Permanent. A report suggested that this Lockdown saved 77,000 lives in China from Air Pollution which claims 7 million lives every year.
Tourism boasts for 8 percent of Global pollution, even more than the Aviation industry at 7 percent. The ozone hole is also healing itself like never before.
Low pollution has made Himalayan range visible from far situated cities like Jalandhar and Saharanpur situated 200 plus kilometers after around 3 decades.
It is funny to know that a Japanese Aquarium asked humans to video call Eels who are forgetting their existence. Reports claim that around 74 percent of emerging infections arise from wildlife, COVID-19 being one of them. In China, there are so many Wet Markets, where wild animals are sold fresh cut or alive for consumption or trafficking. Markets like these are the reason for increased Exposure to infections to transmit to humans. But they saw a 'Temporary Ban' in the wake of a pandemic.
Isn't it so cool to know that the birds; who due to such noise pollution were changing their melodious voice, habits, habitat are free to fly, roam, eat, nest and chirp? That's because of the loss of 30 decibels during the lockdown. Birds and butterflies are a common site again. Not only that many endangered species are now able to reproduce and increase population; such as the whales who do not reproduce in the presence of sound of boats honking. Not only that, but Authorities can also provide better care to the Olive Ridley Turtles; who come after every 7 years to Odisha beaches to nest eggs.
The endangered Sloth bears and palm civets were spotted in different human habitations in Telangana. That is a piece of great news, but it is problematic too, as Coronavirus can affect other mammals too; such as a few goats in Tanzania and a tiger in New York zoo were found infected with Coronavirus. Cats too are susceptible to the virus as per the latest report by WHO. If not infection, they may be attacked by humans or attack them; but at best they are safe from so many highway accidents that used to kill several wild and endangered animals every year.
Seismologists say that our Earth is vibrating a lot less; because of so little activity happening in the times when Earthquakes had become a lot more common and deadlier.
Countries are now closer to meet the 2015 Paris Climate Accord goals, Germany being at a stone's throw! Wow! It took them a pandemic to meet their words!
With a steep fall in oil prices, it would be easier to move forward to renewable energy sources.
Patients of pulmonary diseases can breathe the air they need.
Stars are visible now, maybe something very new to many of Delhi's very new generation.
With low noise, stress hormones are on a balance, as Noise increases those hormones and so the stress.
Our mindset has Changed for the environment, wild and ourselves.
Not Everything is Positive…
Yes, we have discussed those positive cute aspects, this Lockdown period has got us, but there's something more… With the recession and stoppage of construction, decreasing GDP growth; the pandemic has also caused a depreciation in the Green energy project work and investment in them.
Like I said before, nothing is permanent, so is this Lockdown, whenever this all hassle would restart; we would be back to 2019, or maybe even worse.
The world is not able to hold and conduct summits to sign pacts for our Earth's climate and its future.
With more people at home, Online deliveries have seen a heavy surge. That would cost us billions of MORE trees to meet the demand of Soft cardboard as packaging material. With the Guidelines, to wash Hands for at least 20 seconds and multiple times a day, we are not too far from the coming water crisis now. A bigger problem to face.
There's also a surge it the amount of domestic waste and also the hazardous biomedical waste; that is piling up, but can not be recycled or dispose of properly; as the units that do so are either not available to do so, or not available to do so much.
Zoo animals are in a state of confusion seeing no human visitors. Also, the cattle in cattle yards are craving and dying of hunger. There's also an increased risk of poaching of wild animals since they are roaming free and not everyone would enjoy it for good.
With all that said, the nutshell speaks of this Pandemic being a jumbled package. On one side we are searching for a vaccine to end it; while on the other hand, it is acting as a vaccine to the environment. But as soon as the Virus ends the world would be back to business. At best what I can suggest is to plan weekly; or just monthly shutdowns like this, the world would truly thank later.
Even I know that this is not a sustainable way to meet Emission control goals; and the world can not survive with this continuous lockdown; but we can plan things accordingly, such as the promotion of Renewable sources of energy; reducing cess on them and retrace those losses (of good) from increasing the duties on non-renewable resources. You would ask what? And like Petrol and diesel prices are changing anyway with the sudden fall in crude oil prices? Or is it really that we HAVE to do what we should not? After all, it is not the tree that saves our respiratory system but is the clean air. It is not the RO's produce that we drink to quench thirst, but the water.
Read More by Writer:- EUTHANASIA: SHOULD IT BE BANNED OR NOT? – By Deepanshu Goyal
This article on Euthanasia is written by Deepanshu Goyal. A hard-working 2nd-year student enrolled in an under-graduation course of Pharmacy at Maharishi Dayanand University.
COVID-19 COVID-19 COVID-19